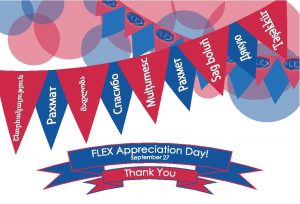 Annually on September 27, FLEX alumni celebrate the program that gave them the opportunity to spend a life-changing year in the U.S. by participating in FLEX Appreciation Day.  This year alumni around the world, including the newest FLEX alumni from Serbia and Montenegro, joined the #ThankYouFLEX social media campaign to show their gratitude and appreciation to those who made their exchange year a success and support them as alumni.
Alumni participated in the campaign by posting on social media, participating in alumni events on the late-September weekend, and by sending out FLEX Appreciation Day postcards to their host families, schools, and placement organizations.  Over 400 alumni sent FLEX Appreciation Day postcards out through the campaign with personal messages of gratitude to their host families, school teachers, local coordinators, peers, and other U.S. friends.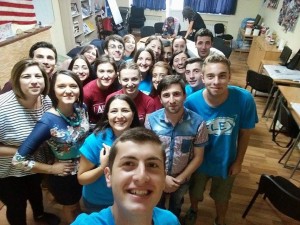 Additionally, alumni organized events and community service projects in celebration of FLEX Appreciation Day. In Zaporizhzhya, Eastern Ukraine, alumni dedicated September 27 to volunteering and organized a public clean up project.  In Central Ukraine FLEX alumni put together a FLEX Appreciation Day Video which is available here. Alumni in Ukraine also joined the celebration by giving presentations about their exchange year in local schools and by volunteering at FLEX testing.  In Baku, Azerbaijan, FLEX alumni highlighted the impact of the program during a U.S. Government alumni networking event on September 27.  In Astana, Kazakhstan, 10 alumni gave FLEX presentations to students and parents during the program recruitment. Finally, in Kyrgyzstan 25 alumni gathered together to make a thank you poster to post on social media and to discuss community engagement projects and events inspired by their exchange year.
FLEX Appreciation Day and the #ThankYouFLEX hashtag reached far beyond FLEX alumni, including posts by schools, host families, and other supporters of the FLEX program and the follow on initiatives by alumni. The social media campaign reached the audience of over 18,000 users and followers. Thank you to all everyone who showed their appreciation for the FLEX program on this day!