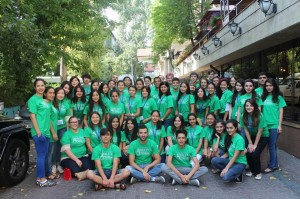 Fifty-one alumni from Kazakhstan, Kyrgyzstan, Tajikistan and Turkmenistan engaged in trainings and developed community ideas at the second annual Central Asia FLEX-Ability workshop on July 16-19 in Almaty, Kazakhstan.  Alumni dove into over 20 hours of project management training and the subtopics of English language instruction, environment & healthy lifestyle awareness, or gender equality. Alumni worked collaboratively in regional teams on their project ideas that they will implement upon returning home.  Alumni also led sessions to share their culture and encourage regional cooperation among alumni of Central Asia.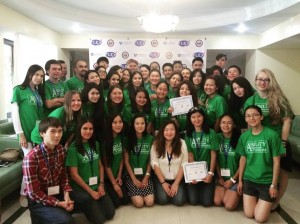 Alumni worked in their subtopic groups based on their interest and experience. Each subgroup was led by Peace Corps volunteer and senior FLEX alumni trainers, including Ilhom Aliyev '05 (Dushanbe, Tajikistan/Monroe, OR), Anastasiya Megid '09 (Ust-Kamenogorsk, Kazakhstan/DeForest,WI), Nurgul Irisova '13 (Bishkek, Kyrgyzstan/Visalia, CA) and FLEX/Workshop for Youth Leaders in Teaching English (WYLTE) alumna Khairina Mamadamonova '14 (Khorog, Tajikistan/Winter Park, FL).  All workshop participants attended site visits related to their theme trainings to take a first-hand look at the projects local and regional organizations are conducting. Alumni groups visited Central Asia Regional Economic Cooperation (CAREC), the American Corner in Almaty, and a training by UN Women representative from Kyrgyzstan Nurgul Asylbekova. In addition to the subtopic and project design trainings, alumni were offered career development sessions on the topics of presentation skills, job search, and social media marketing.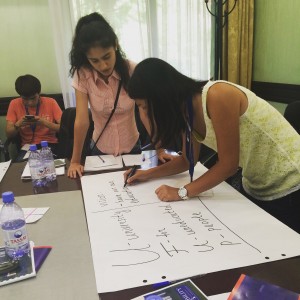 The workshop also included teambuilding activities where alumni were split into groups based on the U.S. region that they lived in while on the FLEX exchange and alumni presented on their states to a wider public. The country teams preparing videos and presentations to highlight alumni activities in their country, their American Councils office, and the lives of youth in their country.
Public Affairs Officer Charles Martin and Alumni Coordinator  Raushan Akhmetova '05 (Almaty, Kazakhstan/Henning, MN) from the U.S. Consulate in Almaty joined the panel discussion on the final day of the conference to talk to participants about the U.S. Embassy opportunities, such as Embassy grants and events.  Through the panel session alumni also learned about other opportunities for funding their project ideas, including the FLEX Alumni and Global Youth Service Day matching grants programs, which are funded through the U.S. Department of State Bureau of Educational and Cultural Affairs.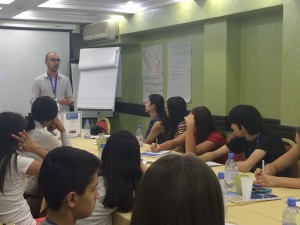 During the project design and management trainings, alumni were split into small teams to create project ideas.  At the end of the conference, 15 completed project initiatives were designed and ready to be implemented in communities across Central Asia.  Project initiatives reflected the themes that alumni were part of during the conference and feature ideas of free English language classes for high school students in rural areas, a gender equality awareness campaign, seminars on promoting nonviolence among rural populations of Central Asia, pedestrian awareness campaign, and recycling projects.  Alumni practiced their public speaking skills while presenting their projects and also learned how to create presentable project reports and take eye-catching photographs.
The networking opportunities at the workshop were an important aspect of the event.  This unique opportunity to meet with alumni and organizations present in the region and discuss regional issues opened alumni's eyes to new project possibilities and cooperation.  Former Central Asia FLEX-Ability alumni and previous successful FLEX Alumni Grant winners attended the final sessions and shared their experiences and successes in project management with participants.
Social Media specialists, participants, staff, and trainers posted live updates and pictures from the conference using the hashtags #CAFLEXAbility2015.
Upon the completion of the workshop alumni submitted nine proposals for the Post Central Asia FLEX-Ability Workshop grants.  Alumni may ask for funding of up to $500 to implement post workshop projects through the end of October 2015.
The workshop was made possible by funding from the U.S. Department of State Bureau of Educational and Cultural Affairs.  The event was held at the Kazzhol Hotel in Almaty, Kazakhstan for 51 alumni from Kazakhstan (17), Kyrgyzstan (16), Tajikistan (16), and Turkmenistan (2).