Khrystyna Holynska '02 from the Women's Democratic Alliance together with volunteers representing the FLEX, Legislative Fellows, and Open World programs, and the U.S. Embassy organized a networking  conference for 45 Ukrainian alumnae of U.S. Government funded programs and American universities on May 23 at the America House. Eight female speakers, experts from different fields, shared their own success stories and achievements through Ted-like presentations.  This conference was the first of its kind, bringing together Ukrainian women from different backgrounds to network and learn about the professional achievements of women in Ukraine.
The speakers included:

Olesya Ostrovska-Lyuta, an expert at the consulting company Pro.mova (http://www.pro-mova.com/).  Olesya presented 'Culture Matters!' where she told the guests why art and culture are essential to happiness and how important it is to be a cultured person.
Rayisa Panasyuk, director of Harmony, an NGO advocating for youth with disabilities located in Vinnytsya, Ukraine, started her talk with the powerful statement, "I do what I want, not what I am able to."  Wheelchair-bound for most of her life, Rayisa shared her experience being the head of a very powerful NGO and cooperating with other institutions, including the Vinnytsya City Council, to make her hometown more disability-friendly. Her speech made participants consider the facilities available for people with disabilities in their cities.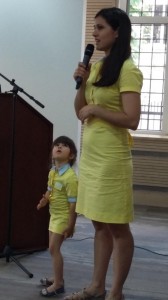 FLEX alumna Halyna Yanchenko '04 shared her experience entering the political stage in Ukraine.  Halyna was named deputy of the Kyiv City Council in May of 2014.  She told the participants about the work done in the Kyiv City Hall, how decisions are made there, and her personal achievements in the position.  Halyna brought her daughter Afina, to the event, quietly highlighting to participants that motherhood and professional excellence is possible.
Rehina Makhotina, the executive director of UAngel, introduced the crowd to the process of doing business and opening a business in Ukraine. Rehina outlined a simple plan and gave many of the women inspiration to open their own enterprises.  Tetyana Protasova, the CEO of Skwibl (http://www.skwibl.com) followed Rehina's lead, encouraging participants to consider IT start ups for the development of a greater Ukrainian market.   Skwibl is a successful start-up for designers, offering feedback from designers across the globe.

Evheniya Kuleba of Gorod/Sad (City/Garden) (http://misto-sad.com.ua) shared her professional experience of creating a paradise out of the ruins of a Kyiv neighborhood. Together with her team, Evheniya planted trees and built a playground in one of the areas that was destroyed after the Ukrainian Revolution of Dignity. After Evheniya's renovation of the area, families can enjoy an eco-friendly and eye-pleasing square, called "The Heavenly Hundred".  Evheniya and her team showed many Ukrainians who think it's not their duty to take care of their city that it's possible to make the change you want to see.
Iryna Koval from the Employment Centre Free People (http://czvl.org.ua/) helps Internally Displaced People (IDP) in Ukraine find employment opportunities in their new cities and towns.   The Center has already helped 770 individuals find work and is expanding to efforts to offer the IDP families alternative forms of support, including educational opportunities.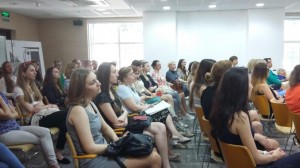 Olha Belkova, a deputy of the Verkhovna Rada, the Ukrainian Parliament, shared the important message, "Do not be afraid to make mistakes. They make you who you are". Olha shared her life's story and was not afraid to share personal stories including some of the professional mistakes that she made.  Olha contented that these mistakes turned out to be some of the best choice that led her to where she is now.  All of the women in the audience were deeply touched by her speech.
Following the presentations guests and speakers took part in an hour-long networking event, where women from across Ukraine met each other and had an opportunity to discuss ways to cooperate in the future.