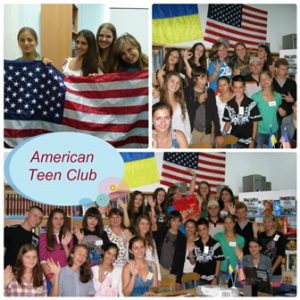 The idea to organize an American Teen Club dedicated to learning English and exploring American culture and traditions in a non-formal environment was born two months after Hanna Akastyelova '13 (Manawa, WI/ Dnipropetrovsk, Ukraine) and Darya Herasymova '13 (Oxford, MS/ Dnipropetrovsk, Ukraine) returned from their FLEX year. Both FLEX alumnae felt greatly inspired by their American experience and were eager to share it with teenagers of their native city Dnipropetrovsk.
'One day Dasha called me and suggested running an American Club for teenagers pointing out that she had already come up with a logo. We were so excited that we immediately started planning topics hoping that we'd manage to find students,' says Hanna.
Finding those who were interested didn't prove to be difficult. First students brought their friends, classmates, and relatives and within a few months the club had established a regular class of students attending every Saturday morning. The club is based out of the Window on America Center and each activity is announced on the center's Facebook page beforehand while its photos and summaries follow.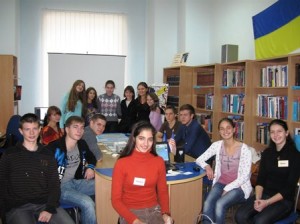 The main aim of the American Teen Club is to help students overcome linguistic and social barriers that prevent them from speaking English.  'In many schools teenagers don't have a chance to use their language skills in practice. We provide them with an environment where studying stops being a chore and where they have a chance to communicate in English with their peers while laughing and drinking tea and without being afraid of getting a bad mark,' shares Daria.  This opportunity becomes especially important since other alternative methods of studying English, such as university prep classes or private tutors, tend to be unaffordable for many families.
To show that English is not only a language spoken by strict school teachers and written in boring textbooks, the organizers have started inviting American guests to their classes. Each guest brings his or her own life story and a unique way of speaking English to the table.  Despite often struggling to understand their foreign visitors, students enjoy these meetings tremendously.  'One of our guests was a Fulbright student of Ukrainian and Chinese background who taught English in one of the local universities here – a really international guy.  Another was a war veteran who won the students' admiration by teaching them some fun slang words.  They asked for both of them for weeks afterwards,' says Hanna.
As exciting as the prospect of making new friends from abroad is, at the beginning learning English can seem as difficult as climbing Mount Everest.  Both alumnae are confident that encouragement and fun are the main reasons why students haven't dropped out, persevering through difficult pronunciation, complicated grammar, and mysterious ways of reading English words.
Some students motivate not only themselves but also their family members. One teenager brought her mother to the club who had never studied English before, but who soon learned enough vocabulary to be able to take part in conversations. Learning quickly through captivating topics is the Club's key strategy: 'We are striving to select the most interesting material to catch the attention of our students rather than something that is simple and repetitive'.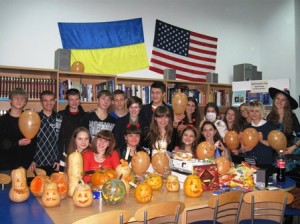 American Councils shares the cost for many events.  'They helped us to pay for pumpkins during our Halloween celebration,' says Daria.  'Our students had never celebrated Halloween before but got into the spirit immediately. One girl baked cookies in a form of fingers with painted nails – they were so true to life, it was almost scary to eat them,' laughs Hanna. Over the course of two years many students have discovered that they are surprisingly good not only in speaking in a foreign language but also cooking some traditional American snacks!
To make sure that the American Teen Club continues even when they are no longer able to give weekly lessons, Hanna and Daria have started training students in preparing and leading classes.  Those interested in being trainers work with the alumnae to develop a class theme and practice facilitating the meetings in small groups.  The leaders are always sure to start with topics of interest for the discussion leader.
'No matter how shy a student may seem, once he starts talking about something he loves, fear of communicating in English or speaking in public disappears,' points out Daria.  'These moments are some that we are most proud of. For us the success of the club is not only about being productive in learning a foreign language.  It's about finding talented students who by studying together grow to appreciate and support each other in and outside the classroom.'
Article written by Tatyana Movshevich