Nazerke Zarlykhanova '12 (Altau, Kazakhstan) Event Location: State school 7, Almaty region $500 FLEX Alumni Grant Funding $850 cost share from: State school №7, KIMEP Honour Society, Youth Parliament of Kazakhstan, student volunteers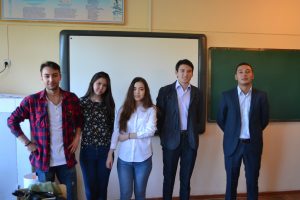 Nazerke Zarlykhanova addressed the issue of poor quality education in rural areas of Kazakhstan by organizing a 10-week project with a title 'Education for Pupils from Rural Areas'. According to Nazerke's research, many students in the country's rural areas do not pass or have a low score in the Unified National Testing (UNT), therefore cannot enter university upon graduating from high school. This happens because schools outside Almaty and other big cities often lack essential preparatory materials with their teaching curriculum not being adapted to the UNT requirements.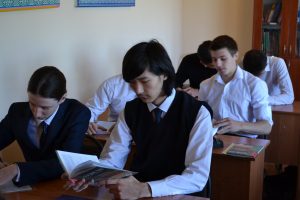 In order to assist students to prepare for their exams and make them aware of various scholarship opportunities Nazerke joined forces with students from KIMEP, ENU and KAZNU universities representing Youth Parliament of Kazakhstan and KIMEP Honour Society to run a session of UNT preparatory tutorials. To make sure that students could also revise independently, Nazerke purchased 25 UNT-based brochures and books for core subjects such as Math, Kazakh, Russian, English, History and sciences as well as practice tests and stationery.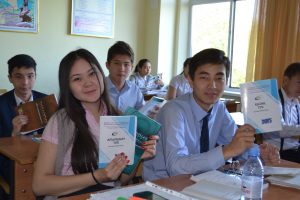 The school №7 that was chosen for the project is situated in a small town 50 km away from Almaty and is connected to the capital only by one bus. The school principal Ms Lyailya Kayipbekovna provided the team with all the necessary logistical support and arranged a schedule for tutorials while teachers helped student activists plan lessons.  The Opening Ceremony started with a presentation about Global Youth Service Day after which Nazerke introduced the project to senior students.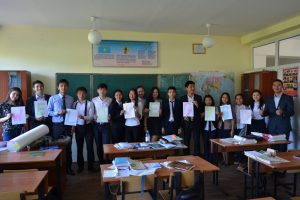 The tutorials were taught on Mondays and Saturdays. After discussing the general procedure of taking UNT exams and requirements of major educational institutions, tutors moved on to explaining their subjects in an interactive way. To make lessons as productive as possible, they teamed up with regular high-school teachers who advised volunteers on how to approach the class taking into account strengths and weaknesses of each student.  After the tutorial period was finished, Nazerke's team continued to assist students with their preparation on an individual basis using the provided materials.
Nazerke plans to evaluate the success of the project after the results of the June national testing are announced. She hopes that in the future her initiative will be picked up by other student organizations and eventually develop into a full-time scheme providing additional learning opportunities to rural students.