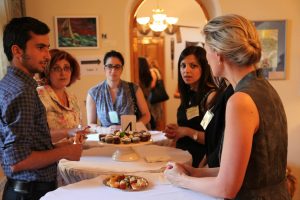 FLEX alumna Lousine Stepanyan '06 took charge and opened the DC Development Center for Languages and Skills Training.    Yelena Mouradyan's '04 dreams of opening a family and kid-friendly café in Yerevan is right around the corner.  Nelly Mirakyan '03 followed her passion and now can showcase her creative luxury  Delight Soap at craft shows across Armenia.  How did these alumnae find the motivation and direction to open these new enterprises? Lousine, Nelly, and Yelena were among twenty FLEX alumni mentees of the Exchanges To Entrepreneurship Mentoring Program (eTEMP), a professional development series aimed to coach alumni interested in opening businesses in Armenia.
American Councils Armenia, in cooperation with the US Embassy in Yerevan and USAAA organized the year-long eTEMP program, which paired competitively selected FLEX alumni with alumni mentors of U.S. Government exchange programs in order to foster entrepreneurship and business initiatives in Armenia. Since June 2014, the pairs have met monthly and take part in specialized trainings and seminars to develop their understanding of the concepts necessary for entrepreneurial initiatives.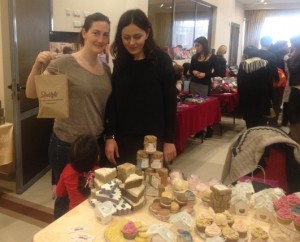 FLEX alumni benefited from the professional experience of their mentors and other U.S. Government alumni who held trainings ranging from business PR and advertising to the basics of starting a business in Armenia from registration to financial management.  eTEMP participants visited the businesses of successful entrepreneurs including FLEX and Global Village alumna Magda Markosyan '02, the co-founder of the MAROG Marketing Creative Agency. Magda talked about the history of the company and its current projects and shared with her fellow alumni best practices for starting business project.  Co-owner of the Lavazza Espression Opera Cafe Armenuhi Khachatryan, a program mentor and alumna of the Junior Faculty Development program, hosted participants at her business and led a session on means for funding a startup.
Former U.S. Ambassador to Armenia John Heffern and U.S. Embassy representatives attended many of the events and encouraged the U.S. Government alumni to think outside the box for career opportunities and development of the Armenian job market.  The 2015-2016 mentoring program is connecting FLEX alumni mentees with U.S. Government alumni for a second year of productive coaching and professional development opportunities for alumni.