Asel Matieva '13 (Kyzyl-Adyr, Kyrgyzstan)
Event Location: Talas region, Kyrgyzstan
$378 FLEX Alumni GYSD Grant Funding
$413 in cost share from: American Corner in Talas, local schools, Moving Forward Language School, Peace Corps volunteers, FLEX and ACCESS alumni volunteers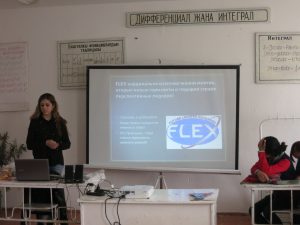 A group of four alumnae, Asel Matieva '13, Nargiza Kanybek kyzy '13, Meryem Karakhasanova '13 and Ayday Amankulova '14 held trainings and discussions on the importance of education at four schools in the Talas region, reaching 170 secondary school students from 9-11 grades.  ACCESS (Micro-scholarship Program for students) Alumni in Talas worked together with the alumnae to run the discussions.  Alumni presented on the challenges of education in villages, empowerment through education, educational opportunities for students, research skills, self-development, and community service.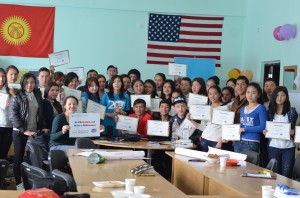 Peace Corp volunteers also spoke with the students on the role of education in American society and the impact education had on their lives. During the project, participants watched a video made for them by Aizada Marat kyzy '08, a FLEX alumna who currently attends Harvard Law School.  Aizada talked about her educational experience and gave very important advice to project participants.
Participants put the theory into practice as they worked in teams and researched educational opportunities and training programs in Kyrgyzstan. At the culmination of the project, participants created posters with the information that they researched and shared it with the larger group and reported on what they learned from the alumni and Peace Corps trainers.