The FLEX Alumni program held the fifth annual FLEX-Ability Conference for 102 alumni.  In its fifth year, the conference changed its parameters and included alumni from Ukraine and Moldova who joined alumni from Armenia, Azerbaijan, and Georgia. The event was hosted in Kyiv, Ukraine on November 6-9, 2014.  The conference was divided into two parts with sessions focused on dialogue and conflict transformation skills, as well as sessions to develop alumni's proficiency in project management and development.
The honorable Geoffrey R. Pyatt, U.S. Ambassador to Ukraine, spoke to participants at the opening of the event and shared his support of the FLEX program.  The Ambassador took alumni's questions, which varied from his views on economic security in Ukraine to his impressions on the growth of exchange programs including FLEX in countries of the former Soviet Union.  American Councils Country Director in Ukraine Yarema Bachynsky, American Councils Country Director in Georgia Timothy Blauvelt, and American Councils Regional Director for South East Europe Elvira Dana also spoke at the opening ceremony and shared the history of the conference and their aspirations for participants.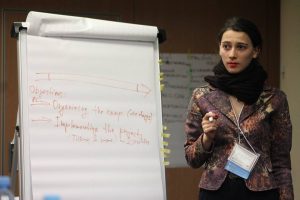 Program Director for the School for International Training and World Learning Youth Leadership and Peacebuilding programs, Simon Norton, led the team of dialogue building and conflict transformation trainers and started sessions with a series of group teambuilding activities.  The activities aimed to offer alumni the chance to demonstrate their leadership potential, while bringing them together to work. Alumni attending the conference come several countries which are in an active conflict.  The following day teams of alumni took part in four concurrent sessions focused on teaching theoretical and practical dialogue and conflict transformation skills.  Simon Norton discussed how to facilitate a conversation and offered alumni the chance to moderate a group discussion, encouraging active listening skills and authentic expression.  FLEX alumna and Project Coordinator at the Imagine Center for Conflict Transformation Maria Karapetyan '04 explained definitions of conflict and used charts and axis to show the differences between avoidance, compromise, and collaboration.  Arzu Geybullayeva '00, freelance journalist and co-director at the Imagine Center for Conflict Transformation, held a discussion about dialogue and the inevitable "elephant in the room." Participants were asked to discuss the room avoiding the elephant and later share their view of the elephant in the room, offering valuable understanding about perception.  American Councils Deputy Country Director Nona Majidi ran the final session, working with alumni to discuss project ideas associated with dialogue building and conflict transformation to transfer over to the project management and design sessions.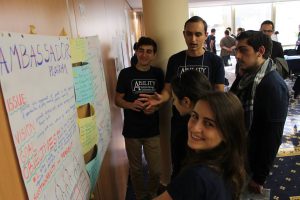 Five former Peace Corps volunteers from Armenia, Georgia, and Ukraine led the project management and design sessions, covering the topics of community need, the project design cycle, creating a vision, project feasibility, goals, action plans, monitoring, evaluation and sustainability, and resource identification.  Alumni worked in small groups of 2-5 with others from their community or university to develop an experimental project. Many alumni developed projects, which they have already started to sketch out in their own communities, while other alumni latched onto an idea that moved them during the dialogue and conflict transformation sessions.  At the completion of the sessions, alumni teams posted their projects across the conference hall for a gallery walk, where they had a chance to share their project ideas with others and answer questions about their project designs.  Examples of the 43 proposed projects are:
Azerbaijan Conversation Club to Encourage Diversity Awareness and Learning of Lezghi Culture and Language
Moldovan Public Awareness Campaign to Teach People about their Rights as Citizens of Moldova
Ukrainian Cultural Exchange Among Youth in Different Regions of Ukraine to Foster Mutual Understanding
Armenian Project to Offer Young Artists the Chance to Use their Skills to Help the Community
Georgian Recycling Campaign in Schools
Alumni also participated in sessions conducted by Cultural Affairs Assistant at the U.S. Embassy in Kyiv, Nataliya Vasyukhnik and FLEX Alumni program staff members to learn about funding opportunities for their projects, including the Alumni Engagement Innovation Fund, FLEX Alumni Grants, and the Global Youth Service Day grants program.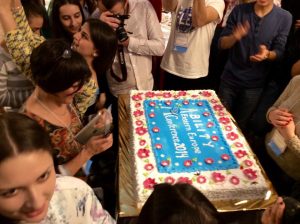 Outside of the workshop sessions, alumni had chances to network and get to know alumni from neighboring countries.  Alumni shared their cultures and showed videos from alumni activities in their counties during Culture Evening.  Talented groups of alumni sang traditional songs, danced, played national instruments, and shared food and traditions from their countries.  The "Life in the Day of a FLEX Alum" video, a tradition at the FLEX-Ability Conferences, highlighted outstanding alumni activities and reminded alumni that we are far more alike than we are different, as our days are full of similar activities in the pursuit of self-fulfillment and happiness.
The FLEX-Ability Conference in Eastern Europe was sponsored by the U.S. Department of State Bureau of Cultural and Educational Affairs through the FLEX Organizational Components grant and grants from the Public Affairs Section of the U.S. Embassy in Georgia, in Moldova, and in Ukraine.
FLEX Alumni program staff and 13 Social Media Specialists among alumni participants posted live updates and photos from the conference using hashtags #EEFLEXAbility and #FLEXAlumni.  Social Media highlights from the event include:
Facebook:  157 posts with the #EEFLEXAbility.   The reach of the posts exceeded 15,000 Facebook users.
Twitter: 30 posts with the #EEFLEXAbility.
Instagram:  150 posts and a 35% increase in followers from 350 to 470 during the conference.
The full social media highlights report from the FLEX-Ability Eastern Europe Conference can be found at https://storify.com/flex_alumni/eastern-europe-flex-ability-2014#publicize