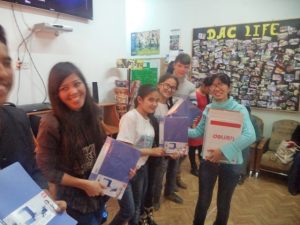 FLEX Alumni in Turkmenistan are some of the most active youth volunteers, organizing hundreds of events each month to share skills and knowledge that they learned on the FLEX program with their communities.  Naturally, these active volunteers celebrated the United Nations established International Volunteer Day (IVD) with other volunteers around the world on December 5.
In Ashgabat, the capital of Turkmenistan, seven alumni and local volunteers held trainings for community members to share professional skills.  The event started with an introduction to volunteerism and benefits of volunteerism on the community and volunteers.  Following this presentation, community members took part in trainings focused on communication skills, project management, team-building, and time management.   Concurrently, alumni in Dashoguz, Turkmenistan welcomed 28 American Corner visitors to the center's IVD celebration.  Alumni gave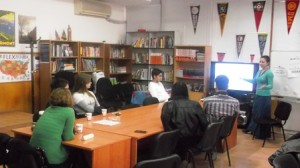 oral presentation about the benefits of volunteering and those in attendance who had volunteered previously shared their experiences and how they benefited from the experience.  In the second part of the event, Dashoguz American Corner Manager Jahan Agayeva and Assistant Victoria Son led an award ceremony to highlight the contributions of community members who have made a significant impact on the community through volunteering.  The award ceremony was followed by musical performances. At both events, participants broadened their outlook on the word volunteer and were inspired to make a difference in their world.