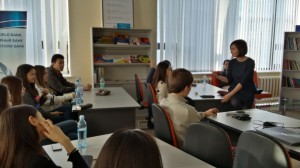 Eighty FLEX alumni volunteers have taken on leadership positions in their cities as City Representatives (CRs) for the 2014-2015 program year.  FLEX CRs work with American Councils offices and Alumni Coordinators in their countries and regions to organize activities in non-capital cities and in universities where large numbers of FLEX alumni study.  CRs promote FLEX alumni opportunities, assist with FLEX recruitment efforts, and submit success stories and update the alumni database; all while reaching out to communities to share the goals and impact of the FLEX program.
Starting in November 2014 Alumni Coordinators across Eurasia organized CR Conferences to introduce the newly appointed CRs to the goals of the FLEX Alumni program and share with them tools and skills for their success. Upon their appointment, City Representatives began organizing projects and events in their home towns.  Below are some of the highlights from events organized by City Representatives and events organized to train them for their job as alumni representatives of the FLEX program.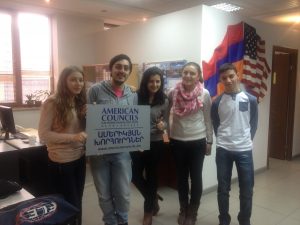 Armenia: Four CRs from: Armavir, Gyumri, Sisian, and Vanadzor
On October 29, Lusine Snkhchyan '13, CR in Vanadzor, conducted a grant writing training to promote the FLEX Alumni Grants and GYSD Matching Grants programs at the American Corner.
FLEX CR in Armavir Arman Azizyan '11 held a presentation about the FLEX program to youth and teachers during the Armavir against Bullying conference, a three-day training for teachers to reduce instances of bullying in local schools.
Azerbaijan:  Five CRs from:  Kargalan, Khachmaz, Nakhchivan, Sumgayit, and Zagatala
CR in Lankaran Abulfaz Hajizada '13 and Zaqatala CR Farah Mammadova '14 led conversation clubs for youth. In addition to language lessons, alumni teach participants about U.S. culture and celebrate American holidays with participants.
Nigar Isayeva '14, Nakhchivan CR, worked with local youth to organize a trip to visit residents at the Recovery Center for Disabled People.  Students spoke with the residents and brought gifts.
Riyad Zeynalov '14, CR of Sumqayit, in order to effectively engage alumni in his city created the Sumqayit FLEX Alumni Web Page. Since becoming CR, Riyad worked with local youth and alumni to organize visits to a home for disabled children and an orphanage.
Kazakhstan: Fourteen CRs from:  Aktau, Aktobe, Almaty, Astana, Karaganda, Kostanay, Kyzylorda, Oral, Petropavl, Semey, Shymkent, and Uralsk.
On November 28-30, 12 CRs from across Kazakhstan attended a training conference in Astana, organized by FLEX Alumni Coordinators of Kazakhstan Aliya Jakupova '11 and Assel Uvaliyeva '12. The CRs learned about opportunities available to them as alumni of a U.S. government sponsored program like the Alumni Engagement Innovation Fund (AEIF), of which Aliya Jakupova '11 is a winner with her project Young Entrepreneurs StartUp.  CRs also learned the basics of project management and development and were trained on how to report on their events and update the alumni database.
Kyrgyzstan: Five CRs from:  Balykchy, Chui, Karabalta, Osh, and Talas.
CR for Karabalta Bermet Nurbekova '14 organized a Halloween party for students at Kara-Balta high school. She and local volunteers prepared games and held a pumpkin carving class.
Azat Toroev '14, CR for Tokmok, together with other alumni have organized many opportunities for local youth including American football classes, English language conversation clubs, and classes on American culture, which included cooking and baking traditional American foods.
Moldova: Ten CRs from: Briceni, Cahul, Chisinau, Magdacesti, Ratus, Straseni, Tiraspol, and Ungheni.
CR for Ratus Elena-Nicoleta Man '14 organized a workshop on effective communication for high school students, aimed to develop their networking and public speaking skills.
Ilie Efros '14, CR for Magdacesti, and other local alumni spoke about the FLEX program and their exchange experience on Teleradio Moldova, a radio station.  The alumni encouraged eligible youth to apply.
Chisinau CR Camelia Stolearenco '14 initiated a debate club at the Petru Zadnipru Lyceum.  With the help of the school's history department, the students are developing their analytic and public speaking skills while learning about national and world history.
Turkmenistan:  Three CRs from: Mary, Turkmenabat, and Turkmenbashy.
The Turkmenistan Alumni Coordinator held a training conference for the CRs in November.  At the conference, the CRs and the Alumni Coordinator developed their plan of events for the year and developed a country-wide event in celebration of International Children's Day.
Mary CR organized presentations on U.S. history in her hometown to encourage American Corner visitors to learn more about other cultures.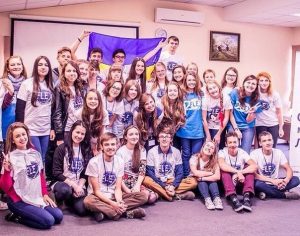 Ukraine: Thirty-one CRs from:  Cherkasy, Chernivtsi, Dnipropetrovsk, Ivano-Frankivsk, Kalush, Kharkiv, Kherson, Khmelnytskyy, Konotop, Kremenchuk, Kyiv, Lutsk, Lviv, Mykolayiv, Nikopol, Odesa, Oleksandriya, Poltava, Rivne, Sumy, Svitlovodsk, Vinnytsya, Zalishchyky, Zaporizhzhya, Zdolbuniv, and Zhytomyr.
All of the Ukrainian CRs took part in a three-day training event to learn about their responsibilities in the position of CR in November in Lviv, led by the four Ukrainian Alumni Coordinators.  The CRs took part in trainings on project development by Jean Van Acker, head of the Strategy, Planning, and Performance Office of the European Union Border Assistance Mission to Moldova and Ukraine and grant writing by Kseniia Choni '07.   The training event was sponsored by a U.S. Embassy grant.
Ukraine CRs have actively assisted with FLEX recruitment. Kyiv CR Alyona Doroshenko '14 created a video to promote the FLEX program and teach interested students about the application process.  Chernihiv CR Anastasiya Karavan '14 held a series of presentations at local schools about her experience on the FLEX program.
CRs across Ukraine find that they are able to leverage the CR position as a professional development opportunity, by learning how to manage projects and volunteers and utilize social media effectively, all the while assisting the Alumni Coordinator with projects.
Thank you to all of the FLEX City Representatives!  If you are a FLEX alumnus/a and are interested in taking on a leadership position in your city by becoming a City Representative, please contact the FLEX Alumni program at FLEXAlumni@americancouncils.org