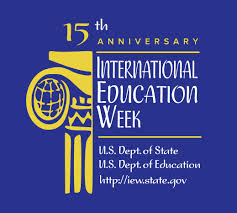 FLEX alumni celebrated the 15th anniversary of International Education Week on November 17-21.  The annual celebration is an optimal time for alumni to celebrate the benefits of international education and encourage alumni to promote exchange programs through a joint initiative of the U.S. Department of State and the U.S. Department of Education.  Below is a list of events that FLEX alumni organized in their home communities to promote international education and exchange programs.
Yerevan, Armenia
On November 17, Ambassador of the United States of America to Armenia John A. Heffern spoke to FLEX alumni about the profession of a diplomat in celebration of International Education Week.  The honorable Ambassador shared with alumni the history of his 30 years of Foreign Service experience and the challenges that he faced.  He introduced alumni to his approach to leadership, giving alumni advice on how to be a good leader and succeed professionally.  Ambassador Heffern closed his presentation by promoting social entrepreneurship and corporate social responsibility to alumni.  The speech was followed by a questions and answers session.
On November 18, FLEX alumna and Global Village alumna Mane Saroyan '07 presented the Global Village for Future Leaders of Business and Industry program to those alumni interested in applying for the program.  Mane, a participant of Global Village in 2009, shared information about the program and encouraged alumni to apply for this unique opportunity.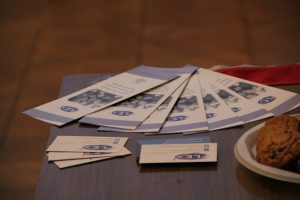 Tbilisi, Georgia
On November 21, FLEX Alumni teamed up with representatives of the American Corner to hold presentations about Georgia, the U.S., Syria, Germany, Iraq, and Thailand at the International Education Week celebration.  Representatives from the Youth Association DRONI, the American Corner, the Erasmus Mundus Programme, and the American University for Humanities joined FLEX alumni in representing each country.  Presenters highlighted famous cultural sites, holidays, and the education systems in each country and staffed a table with the country's national food, books, flags, clothes, and other materials.  The event closed with a presentation of Georgia including folk dances and songs.
Bishkek, Kyrgyzstan
On November 21, four FLEX alumni supported a joint Education USA and Public Affairs Section of the U.S. Embassy in Bishkek, Kyrgyzstan International Education Fair aimed to share information about study abroad opportunities with community members. FLEX alumni talked to participants about their exchange experience and distributed program flyers.
On November 21, ten FLEX alumni held an International Education Week cultural evening during the English Zone language class.  Alumni presented U.S., Spanish, and Brazilian culture and shared the country's traditions, food, and interesting facts.  Approximately 20 young people attended the event.
Dushanbe, Tajikistan
On November 17, alumni assisted at the Education USA Educational Fair at the Ismailic Center. Alumni shared information about the FLEX program and their exchange experience with community members.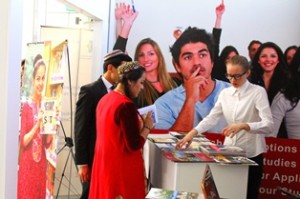 Ashgabat, Turkmenistan
Nurgeldi Nepesov '14 and Vladislava Zhukova '14 shared information about the FLEX program and distributed information to interested students at the U.S. Embassy-organized Education Fair.
From November 17-21, FLEX alumni organized several presentations about the U.S. system of education for community members at the Information Resource Center.  On November 17, Altyn Hallayeva '10 conducted a presentation introducing the American system of higher education to Turkmen high school students.  The following day, the alumna led an informative presentation on the documents needed to apply to U.S. universities and held a presentation for parents, in Turkmen language, to share information about the application process to study in the U.S at the American Councils office.
FLEX alumni assisted the U.S. Embassy in Turkmenistan's International Education Week initiative, American Culture Days.   The U.S. Embassy in Turkmenistan, Turkmenistan's Ministry of Culture, the Smithsonian Institution, and American Film Showcase held a variety of musical and dance performances, art exhibitions, and film screenings across Turkmenistan on the occasion of International Education Week.  Alumni assisted and translated for performers and delegations.
Dashoguz, Turkmenistan
On November 22-24, Madina Tukhbatullina '14 and local volunteers organized International Education Week events at the American Corner.  The first event, an International Night for 42 American Corner visitors, included presentations, songs, and performances from alumni and others who have spent extensive time in the U.S., France, United Arab Emirates, Russia, and Spain.  During the International Students Worldwide presentation, alumni shared their exchange experiences and the advantages of participating in international exchange programs with the 24 participants.
Mary, Turkmenistan 
On November 19-23, staff of the American Corner and alumni organized presentations for community members in celebration of International Education Week.  Alumni held presentations about the FLEX program, taught English and culture lessons, and led workshops on applying to U.S. colleges and taking standardized tests.
Chernihiv, Ukraine
Anastasiya Karavan '14, FLEX Alumni City Representative for Chernihiv, organized a series of presentations on November 17-19 for 15 community members on the FLEX program, U.S. higher education, and the U.S. university admissions process.  The alumna shared her exchange experience and introduced FLEX and other U.S. Government-sponsored exchange programs to the community.  Later in the week, the alumna organized a public speaking class for 24 community members and local students.