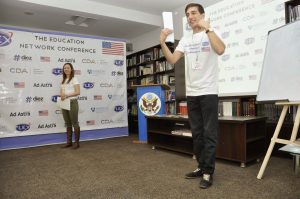 FLEX Alumni Coordinator for Moldova Nicu Gaibu '12 and Rodica Gravrilita '10 together with eight other FLEX alumni organized the Education Network Conference, with the financial support of the U.S. Embassy in Moldova.  The conference took place on October 27-29 at the Chisinau at the American Resource Center and involved 45 high school students.  The conference aimed to inform students about educational opportunities both locally and internationally with the larger goal of creating a future workforce in Moldova to promote sustainable and viable economic growth in the country.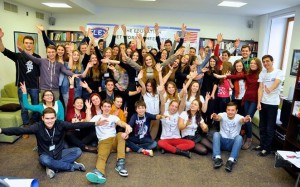 Conference organizers complied educational opportunities for Moldovan youth, brought in speakers to share information about projects, scholarships, and internal and international education opportunities, and organized professional development sessions for participants to develop their soft skills for admissions events. The conference was organized in celebration of the upcoming International Education Week and promoted world-wide education opportunities.  Speakers, trainers, and representatives from the U.S. Embassy and Swedish Embassy in Moldova, American Councils, the Creative Development Association, the Ad Astra group, and Google Moldova shared information about educational opportunities with participants and led trainings aimed to motivate students to follow their aspirations.  FLEX alumni led concurrent training sessions on interview skills, resume and cover letter writing, and networking skills.
Organizers hope to make this an annual event to offer more youth information about the many opportunities available to them.  Future events would focus on disseminating information to youth living outside of the capital and throughout the regions of Moldova.
Pictures from the event can be found at:  https://www.facebook.com/media/set/?set=a.892851454058477.1073741844.202100853133544&type=1