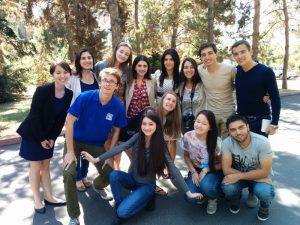 The 2014-2015 Eurasia FLEX Alumni Coordinators (ACs) attended a training conference in Almaty, Kazakhstan on September 11-14 to prepare for their tenure with American Councils, learn more about the opportunities offered to FLEX alumni, and to work as a team to support FLEX alumni and program initiatives throughout Eurasia.   The ACs attended trainings led by FLEX Alumni program staff, former Alumni Coordinators and U.S. Embassy representatives, presenters from the Pulitzer Center on Crisis Reporting and Imagine Center for Conflict Resolution, and alumni who shared their experiences taking part in programs such as Global Village for Future Leaders of Business and Industry.   Alumni Coordinators also shared best practices and ideas for projects, which have been successful in their communities, encouraging others to build on their success.  ACs used the hashtag #FLEXACs2014 to share the conference information with the greater alumni community.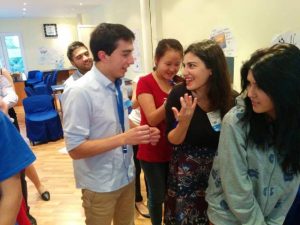 Coordinators from Armenia, Azerbaijan, Georgia, Kyrgyzstan, Moldova, and Tajikistan together with two ACs from Kazakhstan and four from Ukraine attended the event.  The Alumni Coordinator from Turkmenistan was regrettably not able to attend the event, but will receive training from in-country staff.  ACs began their training with information about American Councils and the FLEX program, followed by a series of teambuilding activities.  Next the coordinators learned more about alumni opportunities, such as grant programs and competitions.  Throughout the course of the conference, the Alumni Coordinators learned techniques to improve their communication with alumni using online tools, such as the events and jobs boards, which can be found on the FLEX Alumni Website, www.BradleyHerald.org, and the online learning platform WizIQ.
Throughout the event, Alumni Coordinators were reminded of the events that they are required to organize and to reflect on their personal goals for the year and those of their alumni community.  To prompt their professional success, ACs participated in sessions on time management by former Alumni Coordinator Aslan Abzhakov '02 and public relations and effective social media use by Arzu Geybullayeva '00.  The full schedule of events can be found here.
Conference organizers would like to thank Mark Schulte and Steve Sapienza of the Pulitzer Center on Crisis Reporting, Zauresh Amanzholova '07, alumni coordinator of the Public Affairs Section, U.S. Consulate General Almaty, Almas Kebekbayev '08, Arzu Geybullayeva '00, Aliya Yabekova '08, Baurzhan Bolatov '10, Adil Butaleb '10, Aslan Abzhakov '02, and former FLEX Alumni Program Manager Mary Shea for presenting at the event and contributing to the success of the event and the coordinator's success.