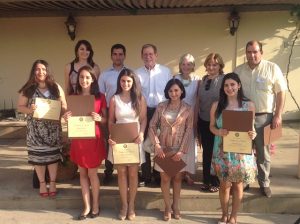 Aydan Aslanova '13 (Baku, Azerbaijan/ Sarasota, FL), Sevinj Huseynova '11 (Khachmaz, Azerbaijan/Klamath Falls, OR), and Gunay Kerimova '12 (Baku, Azerbaijan/ Mount Vernon, IA) were recognized at a reception hosted by U.S. Ambassador to Azerbaijan Richard Morningstar on June 20.  The event brought together over 150 finalists and alumni of U.S. Government sponsored exchange programs in Azerbaijan. Ambassador Morningstar presented U.S. State Department Certificates of Completion to Alumni Small Grant program recipients.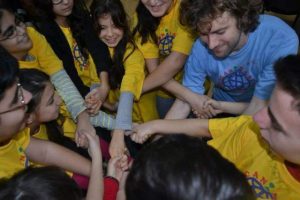 Aydan Aslanova '13 received grant funding in the amount of $600 for the project Kids Can Make It Better.  The alumna together with Kanan Mammadli '12 (Oguz, Azerbaijan/Visalia, CA) organized educational programs in English for Baku middle and high school-aged children in the fall of 2013.  Twenty-five children watched presentations on topics, which are not covered as part of school curriculum in Azerbaijan, such as volunteerism and community service, ecology and importance of recycling, pedestrian safety, and time management.  Project participants used their newly-learned skills and shared them with their peers at school, through presentations and school projects.
Sevinj Huseynova '11 with the support of local NGOs in Khachmaz, Azerbaijan managed the project entitled "I Won't Be Your Victim" that received both FLEX Alumni Grant program and and US Embassy Alumni Small Grant program funding in the amount of $1780 and $2450 respectively.  The project focused on teaching participants how to recognize human traffickers and prevent human trafficking in their communities.  Sevinj together with members of the Human Rights Monitoring Center and the European Movement against Human Trafficking led presentations and trainings for high school students and adults in the regions of Khachmaz, Sheki, Ganja, and Khudat, Azerbaijan.  Her project enabled local communities to continue the fight against the practice of women trafficking through the establishment of Woman's Clubs across the country. Pictures from the project can be found here.
FLEX alumna Gunay Kerimova '12 was recognized at the reception for her successful completion of an internship at the U.S. Embassy in Azerbaijan.  During her nine-month internship, Gunay maintained the monthly U.S. Government Alumni Newsletter.  The most recent example of her work can be found here.
FLEX alumni across Eurasia are actively involved with different programs and projects of the U.S. Embassies in their home countries.  Collaboration is the key to success!