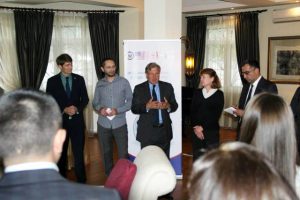 On May 14, 20 FLEX Alumni joined more than 100 alumni of various U.S. Government sponsored exchange programs in Georgia at a reception in honor of the launch of the U.S. Government Exchange Program Alumni Association of Georgia (EPAG). The event, which took place at the residence of the U.S. Ambassadors to Georgia, introduced alumni and other guests to the goals of the association.
U.S. Ambassador to Georgia Richard Norland opened the event and spoke about the importance of collaboration among U.S. Government sponsored exchange program associations and alumni.  The association will fill the void of a needed platform for cross program collaboration and project development.  Organizers also hope that the association will give businesses and networks access to the U.S. government educated alumni they are seeking for professional positions and offer alumni professional development opportunities.  FLEX alumna Tamar Kvaratskhelia '94 worked together with Andro Dadiani, an alumnus of the Muskie program, and U.S. Embassy staff to organize the event.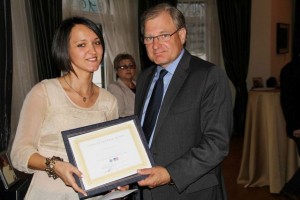 In addition to the announcement of the association, event organizers introduced the audience to the various U.S. Government sponsored exchange programs alumni groups in Georgia and held a speed networking activity to encourage participants to interact with alumni of different programs and other U.S. Embassy representatives who were in attendance, such as the Head of the Public Affairs Section, the Cultural Attaché, and Education Program Managers. American Councils FLEX Program Coordinator Kristi Milorava '07 was named the winner of the speed networking activity after connecting with 65 alumni.