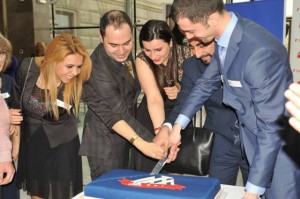 Forty-seven FLEX alumni joined over 300 alumni of U.S. Government sponsored exchange programs in Azerbaijan at the celebration of the 10th anniversary of the Azerbaijan Alumni Association (AAA) on April 26.  Association president, FLEX alumnus FarizIsmayl-zade '96, shared his delight in the success of the AAA, stating his ongoing support of collaboration among U.S. Government alumni.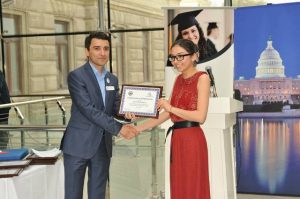 The event highlighted the 10 years of the AAA and facilitated networking and project collaboration among the various U.S. Government sponsored exchange program associations and alumni.  FLEX Alumni Coordinator Leyla Novruzova '11 spoke about the various projects FLEX alumni are organizing in Baku and throughout the country through the volunteer City Representative network.  FLEX alumni also contributed to the event by showcasing their talents. Vusal Rahimli '14 who is currently a FLEX student in Greenwood, IN shared photos he has taken while on the FLEX program as part of the photo exhibition and Nazrin Agharzayeva '13 and Kenan Mammadli '12 submitted photos from activities they organized as alumni. More interesting moments from the event can be found here.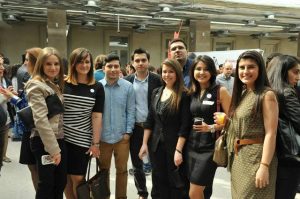 The most active alumni of the year were recognized at the event and given Alumni of the Year awards.  FLEX alumnae Aydan Aslanova '13 received an award for her organization of a youth leadership camp through a U.S. Embassy grant and Shabran City Representative Nazrin Agharzayeva '13 was also highlighted for her success in organizing activities and promoting English language and American culture through the Children's Club.  GunayKarimova '12 received the Alumni of the Year award for creating the monthly U.S. Government Alumni Newsletter, which she creates in her position as an intern at the U.S. Embassy in Baku.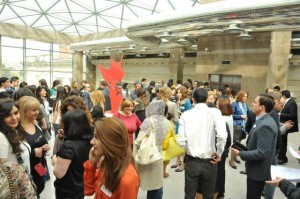 Alumni of all programs hope to ride the wave of enthusiasm created by this event.  Only two weeks later, Edmund S. Muskie Graduate Fellowship Program alumni led a professional-development training event for four FLEX alumni to develop their resume-writing and other soft skills needed to enter the workforce.  Alumni plan on organizing many other similar events to strengthen ties between U.S. Government alumni and develop collaborative projects.