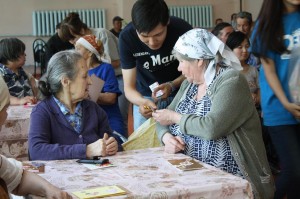 During the April celebrations of Global Youth Service Day, the dynamic FLEX alumni team of Benazir Kabaeva '13, Ignatiy Kim '10, Nasiba Nurmatova '11, and Nadezhda Pak '09 organized the Ties of Generations project aimed at showing children in the Bishkek, Kyrgyzstan community how their little hands can make a big difference in the lives of senior citizens.   The alumni held presentations for the children at the Svetliy Put and Uchkun Orphanages, to introduce them to the senior citizens living in nursing homes and shared with the children the needs of the seniors.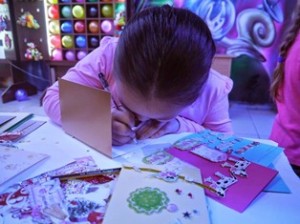 The children immediately proposed ideas of what they could do to help the seniors. They decided they could improve living conditions for the people at the nursing homes by bringing them basic needed supplies. But they also agreed it would be good to let them know they care, by making visits to their homes. The 30 children involved in the project started by creating postcards and crafts, which were sold for over $250 as a fundraising effort for the home.  For the second project, a collection drive, the children solicited the alumni team's help.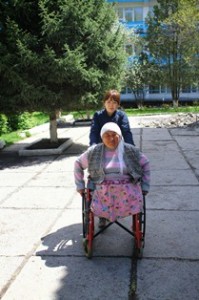 Fifteen FLEX alumni and 20 local university volunteers held food and personal hygiene supplies drives at the American University of Central Asia and High School #70.  Alumni collected nearly 1,000 pounds of food items, medicine, personal hygiene items, and needed supplies such as pillows and blankets for the residents.
The alumni team, the children, and the local volunteers traveled to the nursing home not once but twice. Their April visit was so appreciated, that they decided to go again in May to celebrate Victory Day, one of the most important days of the year for the residents.  The joyful visits included concerts where FLEX alumni and the children sang patriotic songs and spent time visiting with the residents.  Alumni plan on organizing a similar event this summer. These series of events helped to highlight among all of its participants that every person is able to make a positive difference in his or her community.  As one alumna phrased it, "our tiny drops of effort and attention, when combined together, turn into a sea of love."