Hello. My name is Tatyana Movshevich. I am a FLEX alumna '04. I live in London and work as a freelance journalist. A couple of months ago I had an opportunity to conduct an interview with a British Arctic Convoy veteran Duncan Harris, who participated in four Arctic journeys to Murmansk in order to deliver desperately needed goods to the USSR. His story is fascinating and I thought that other people would be interested to hear it as well, especially since the unprecedented heroism of Arctic Convoy soldiers was forgotten for a long time. I would love to share Duncan's story with you and would be happy to hear your comments. 
Arctic Convoy Veteran Looks Back, 70 Years Later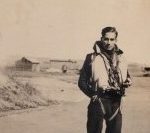 22 December 2013 | Issue 5282
Sixty-eight years have passed since the end of World War II. There are still traces of it here and there, but the general recollection is slowly sinking into the layer of archives and museums. The gap between wartime and younger generations is growing. Having been brought up in a relatively peaceful period, I am used to taking the absence of conflict for granted. I do not know much about the war; I am not physically scared of it.
Many say that it was the knowledge and fear of endured hardship and violence that prevented the USSR and NATO from starting a new war with each other in the '60s. Listening to the memories of the Second World War veterans I cannot help but realize how costly and meaningful on many levels the victory over fascism was. The story of Duncan Harris, a British participant in the Arctic Convoy, is significant as important historical evidence of both heroism and international cooperation, which was brushed aside shortly after the war. It is also a fascinating story in its own right.
Read more: http://www.themoscowtimes.com/arts_n_ideas/article/arctic-convoy-veteran-looks-back-70-years-later/491968.html#ixzz2sNIWXG8T
The Moscow Times