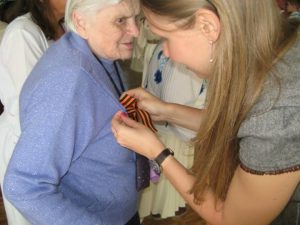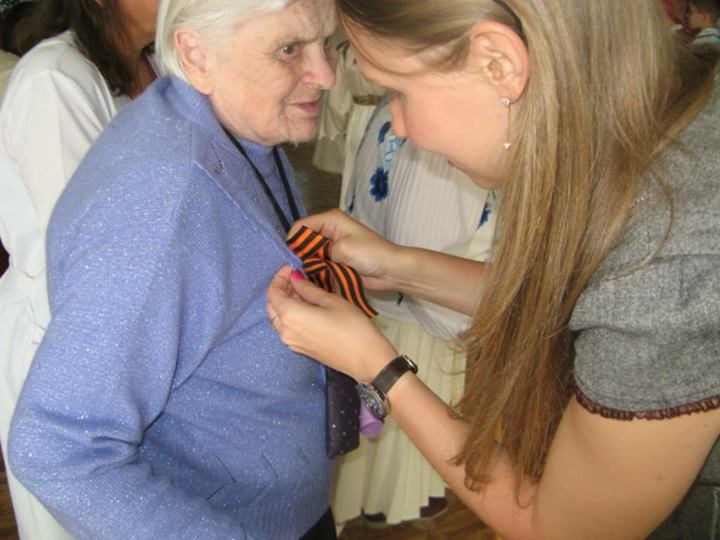 Alumni across Eurasia organized events in celebration of Veteran's Day.
Cheboksary, Russia: On May 8, three alumni congratulated the residents of the nursing home for veterans on Victory Day.  They held a small concert for them and also presented them with flowers and sweets. Later the alumni helped the veterans add new plants to their garden.
Ashgabat, Turkmenistan: From May 7-11, alumnae conducted the World War II Movies Week dedicated to Veterans Day.  Over 50 people watched U.S. and local movies about the Second World War.  On May 9, alumni visited Ashgabat's eternal flame monument and gave veterans flowers and thanked them.
Yevpatoriya, Ukraine:  Alumni together with volunteers from School #8 prepared hand-made cards for the veterans as a part of volunteering project of American Educational Center led by alumnus Sergiy Rokachov '12. On Veterans Day the volunteers went to Central Park and presented appreciation cards to the veterans.
Sevastopol, Ukraine: On May 7, five alumni organized a Victory Day concert at the Sevastopol Nursing Home.  Alumni invited local bands, art schools, and dancing clubs to participate. The students from these schools and clubs met with the residents, performed for them, and gave them ribbons and flowers. On the following day Sevastopol and Crimea alumni organized an art exhibition and concert dedicated to Victory Day and WWII at School #49. The school invited local veterans to the concert and the students together with alumni gave presents and flowers to the veterans.