Post by Yerasyl Toleugazinov '12
Semey, Kazakhstan/ Lacy, Washington
Yerasyl is one of three FLEX Alumni representatives invited to represent the FLEX Alumni community and program for Civic Education Week 2013:
Being a part of the Civic Education Week brings new thoughts and ideas how to develop projects in own community. Nevertheless what is also important that we need to remember the results what we have already achieved should not be limited. Successful projects still have ways to be improved expanding its boundaries.
FLEX Alumni community creates perfect opportunities to be connected with each other and make a difference not only in one country, but across the whole region. Projects that have been realized in each FLEX country are inspirational and diverse. If a project was successful in one country and it was able to achieve a lot, why shouldn't other alumni community consider it? Today's meeting at Department of State pushed me to develop alumni connections across Eurasia even closer than it is now.
Learning about projects and volunteering that my fellow alumni Anna Safronova and Marina Buciuc have worked on, I am convinced our countries have common issues that need to be solved. Anna's "My dream city" project has already expanded to five different countries and the problems of orphans are current in my country too, and through the alumni connections we could broaden the horizons of this project.
The opportunity we have got is to have a meeting with U.S. Department of State Officials about Public Diplomacy in Eurasian countries, discussing each country in particular.  FLEX students asked concerning questions about native country, and the responses that have been made there are covered not only the answer for the question but also challenged us to think deeper for the problem.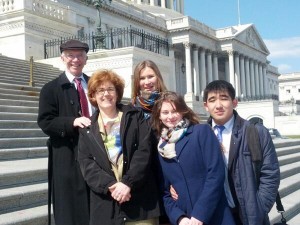 It is amazing how every participant of the Civic Education Week has had the chance to meet so many interesting people from across such a large region. The atmosphere here is inspiring for new endeavors in the community, and I am excited and hopeful we all can make a difference in our own countries by making an effort and working together as a whole family.
Learn more about the FLEX Program here: http://goo.gl/CNwCQ