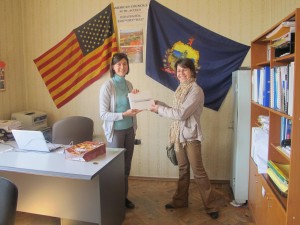 Between now and March 31, Eurasia FLEX alumni are invited to participate in the 12th Annual Faces of FLEX Contest.  Taking part in the contest is an opportunity for FLEX alumni to share their experiences and successes with peers across Eurasia and with stakeholders in the U.S.  Competitive entries convey the spirit of the FLEX program and feature depictions of alumni actively engaged in community service, professional development, debates, summer camps, and other activities that took place from 2009 -2012.
A jury from the ECA's Youth Programs Office select winners from those submissions that show how FLEX alumni develop and share the knowledge they have acquired as a result of participating in the FLEX program.  Those winners will receive fantastic prizes like an iPad2, an e-reader, and limited edition FLEX souvenirs.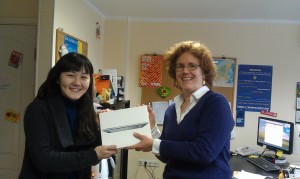 Last year, Olga Magneyeva '11 of Russia won in the photo category with her picture, "After food and books drive at the orphanage!," while  Arus Sahakyan '10 of Armenia took home the prize for the video category with her clip "Sharing us with the world."  A newsletter about last year's 1st-, 2nd- and 3rd-place winners, as well as the Alumni Choice winner, is available here.
For the 2012-13 competition, alumni have until 11:59 p.m. Moscow time on Sunday, March 31 to submit their photos and videos.  For tips on how to make a great video, watch American Councils Media Department's instructive tutorial.