The FLEX program is pleased to announce the winner of the FLEX 20th Anniversary competition Share Your FLEX Story Essay Contest Iryna Lysenko '03 (Mykolaiv, Ukraine).  Iryna submitted the essay below.
Three Lessons Learned From Volunteering
Iryna Lysenko '03 (Mykolaiv, Ukraine)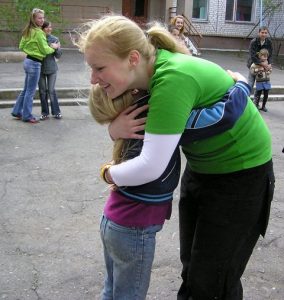 Volunteering to help people in new, meaningful and sustainable ways – that was the concept I adopted. It all started when I became a FLEX student in 2002. I spent an incredible year in Fruitland, Idaho, where I volunteered at the community library and in a school fundraising campaign for the homeless. I did it at first for the purposes of integration: to find new friends at school, to fit in. It worked out wonderfully, people soon waiving at me in the street because they knew me from the homeless campaign or because I had helped their kid choose the right book at the library. Some people would donate food to me for the homeless precisely because I had helped and encouraged their kid at the library… I learned my first lesson of volunteering: helping people creates connections. It builds networks. Networks that can help you help more people. Networks that help you feel at home where you are. I decided I would continue with it after my year in the U.S. ended.
My successes of today are a direct result of my volunteering efforts. I have been volunteering in various projects in Ukraine since 2003, all classic FLEX projects – orphanage visits, school presentations, clean-ups. In 2004 I met two exceptional Peace Corps Volunteers and several local students with whom we have built something new. Planned by us as an English language & culture summer school, it seemed to lack the spark of inspiration shortly before the start. I suggested a different format, drafted a new curriculum based on team activities, and with the approval of our team changed it into a fast-paced, team-based, competitive civic & leadership training program. The project later grew to become the International Outreach Camp (IOC) that has been successfully implemented in Kyrgyzstan and Armenia as well as for multiple years in Ukraine. My second lesson of volunteering: you can create new things with it! Helping people is not a pattern you follow; it is a way for you to use your individuality and creative ideas to give what only you can give. It benefits others, but also let you express yourself in increasingly meaningful ways.
In 2007-2008, I spent 10 months doing my European Voluntary Service (EVS) in Luxembourg. I worked at an interreligious student center and researched cases of
discrimination of international students on the student job market. I taught English to
Chinese and African students. After my return in 2008 I founded the Youth NGO Iskra in
Mykolaiv. Iskra focuses on intercultural and inter-religious dialogue and acts as a Sending Organization within the Youth in Action Program of the European Commission, encompassing youth exchanges and long-term volunteering abroad. My love for networking, desire to create new things, and my commitment to volunteering really came together in this project. Since 2008 I have helped more than 60 young Ukrainians to find their passion and join a long-term voluntary service project abroad.
In 2009-2010 I became a volunteer for the Action Reconciliation Service for Peace in Gdansk, Poland. I organized study visits for German youth groups at the former concentration camp Stutthof, translated archive tours from Polish to German, and visited elderly survivors of concentration camps. That year gave me a final lesson on the use of volunteering. Volunteering, if done from the heart, helps you to discover your deep and true personal passions. It helped me discover my own passion: a passion for a peaceful world, in which the wrongs done by wars are redressed, victims are remembered, losses commemorated.
Today I am a Master's student in Peace and Conflict Studies at the University of Marburg, Germany. I receive the DAAD/OSI graduate scholarship. I work at the Center for Conflict Studies in Marburg where together with my professors I organize summer schools on conflict prevention in Central Asia. I keep running my NGO in Ukraine. I volunteer for Students Without Borders, an international student organization that helps youngsters from war-torn regions receive a higher education, and I plan to continue volunteering in the future. I am really grateful for my year in the USA that changed my whole perspective on how I can help and be useful for other people.