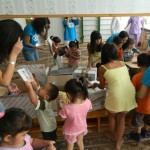 The Eurasia FLEX Alumni Program of American Councils is proud to present the alumni community with its winners for the Eleventh Annual Faces of FLEX Photo Contest and First Annual Faces of FLEX Video Contest!
The first place in the photography category goes to Olga Magneyeva '11 (Russia), for her picture, "After food and books drive at the orphanage."  Arus Sahakyan '10 (Armenia) won first place in the video category with her clip, "Share us with the world."  Their prize is an iPad2, which is the most high-stakes prize offered in the Faces of FLEX Photo Contest history.  Congratulations, Olga and Arus!
The judges in the Youth Program Division of the U.S. Department of State said Olga's photo reflects community spirit, charity and leadership.  They were able to clearly see the charity and giving back; the FLEX students and children are really involved in what they are doing.  There is also a lot of activity in the photo by volunteers wearing FLEX t-shirts.  The video Arus made happened to win the Alumni Choice Award for best video.  Her clip won over the Youth Program Division judges, too, with its upbeat music changing in time to the various activities documented.  Those activities showed alumni at work, at play and in professional settings.  Between these dynamic action shots, the spirit of volunteerism and the use of FLEX logos as well as the American and Armenian flags, audiences stay riveted and engaged throughout the entire sequence.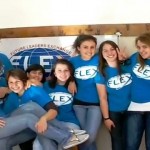 Taking second place in the photo category is Selbi Shamyradova '11 (Turkmenistan), who shared the picture, "Let's Spread Peace Action."  Zafarbek Sulaimanov '11 (Kyrgyzstan) took the same place in the video category with the video, "Kyrgyzstan.  Non-profit org. 'School of Leaders.'"  These alumni will be recognized with digital photo frames.
Third place winners include Muminjoniyon Abdulvahhob '09 (Tajikistan) for his picture, "Let's clean it up!" and Lev Shishov '03 (Russia) for his clip, "FLEX alumni and Red Cross project: *Integrations*."  They won limited edition FLEX souvenirs.
Among the honorable mentions in the photo category were pictures from Muminjoniyon Abdulvahhob '09 (Tajikistan), Hasmik Tonapetyan '09 (Armenia), Olga Magneyeva '11 (Russia), Tigran Gevorgyan '06 (Armenia), Glib Pronskikh '07 (Ukraine) and Keti Chitashvili '10 (Georgia).  The judges also expressed special appreciation for clips by Maksim Gorbunov '08 (Russia) and Nadezhda Pak '10 (Kyrgyzstan).
The Youth Program Division this year had no easy task, with nearly 500 contest submissions to consider.  Thank you to everyone who participated in the events, submitted photos and videos and rated and commented on peers' contributions.  The event was a success fueled by FLEX alumni participation at every level.  May next year's contest come quickly – until then, keep those cameras at the ready!