Gharm is one of the most isolated regions of Tajikistan, and only about two high school students from the region are selected annually to take part in the FLEX program. Even though this region has fewer FLEX alumni in comparison to other regions within Tajikistan, its alumni are some of the most passionate and dedicated to generating an impact to their community. Currently, eight alumni are working together for Gharm's development. These alumni work for international development organizations and work as a team to implement FLEX alumni funded projects during their free time. Daler Qosimov '18 (Gharm, Tajikistan/Cass City, MI) is making an exceptional impact on the community.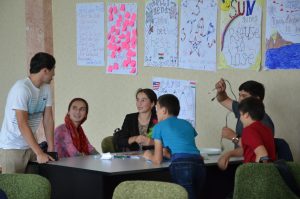 After returning from his exchange year in the U.S. in the summer of 2018, Daler was extremely motivated to become an active member of his community. Right away he applied and became the City Representative (CR) for Gharm and went on to serve in the position for two years. Daler took on this position while studying at the Pedagogical Institute of Rasht and working part time as an English Courses Coordinator.  In his free time he ran an English Debate Club at the American Space in Gharm. He excelled as a CR, helping the Tajik Alumni Coordinator implement FLEX alumni projects and coordinating the alumni in the region. In his two years of being a CR he organized over 40 projects and events that taught English and shared American culture, while also working with minority groups.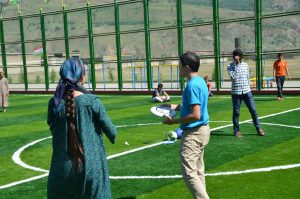 The highlight of his accomplishments was the project Diversity Summer Camp, which he organized with the support of a FLEX Alumni grant.  This camp was organized in the summer of 2018 and brought together 40 students aged 12-16 from schools across Gharm. Modeled after an American-style summer camp, participants explored their curiosities by taking part in elective courses, built trust, and enhanced their English-speaking abilities through games and activities. The week-long camp promoted an appreciation of American values such as fairness and gender equality.This project helped these young learners learn to appreciate each other's differences and similarities in a safe and supportive environment. Daler got help from six other alumni from Gharm to put on the camp, stating that "I could not have implemented this project without the support and encouragement from my fellow alumni."  These alumni acted as counselors and led classes including English, drama, art, sports, and teambuilding.
Daler was inspired to put on this camp after his time in the U.S. He added that "what I learned and experienced in America is too much to pass on to my community in one day, and that is why I came up with the idea of having a week-long American summer camp". This inspiration from his FLEX year ended up generating a great impact within an isolated area of Tajikistan. These kids acquired a taste of American culture, improved their English, and learned to appreciate each other's differences and similarities.
Written by Behruz Gharibov '18 (Dushanbe, Tajikistan/Albia, IA)