This July marks the 30th anniversary of the passing of the Americans with Disabilities Act (ADA), a civil rights law that prohibits discrimination against individuals with disabilities in all areas of public life. While the ADA was meant to serve those on U.S. soil when it was passed on July 26, 1990, it has inspired disability civil rights laws around the world.
The FLEX and YES programs together have included more than 575 secondary school students with disabilities.  We are proud of the accomplishments of these alumni and are highlighting their stories and outstanding projects that alumni have organized that advocate for communities of people with disabilities in celebration of the anniversary.
The Bureau of Educational and Cultural Affairs of the U.S. Department of State (ECA) has also launched the ​Access for All campaign to highlight the State Department's commitment to continue promoting equal opportunities for persons with disabilities.  ECA invites alumni to participate in a call to action by answering how participating in a U.S.-Government sponsored exchange program help you in your career development as a person with a disability or in promoting opportunities to people with disabilities in your community.  Learn more here.
Learn more about ECA's successes in inclusive exchange programs, the exciting work, and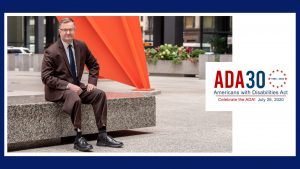 many opportunities for cultural exchange through the Bureau of Educational and Cultural Affairs (ECA) at http://eca.state.gov.
We are proud of the work of the FLEX Alumni community and the impact that it has on your communities around the world.  Happy 30th Anniversary of the Americans with Disabilities Act!