Project Organizer: Aida Oktombekova '13  Event Location: Osh and Jalalabad, Kyrgyzstan $ 180 in FLEX Alumni Grant Funding $ 180 cost share from: the AUCA, Bilim Kyrgyz Concept, TOEFL Center, American Corners in Osh and Jalalabad, EducationUSA program, Collabera Malaysia, FLEX alumni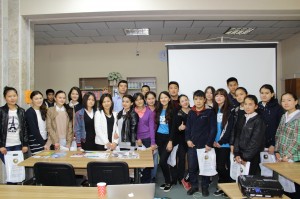 On April 22-23 Aida Oktombekova '13 and Sanira-Begim Mamatova '13 implemented two trainings on educational and professional development titled 'Start Locally, Change Globally' for 50 high school students. Hosted in the American Corners in Osh and Jalalabad the project attracted a wide range of partners who provided educational materials for the events.
The aim of the project was to encourage students to pursue higher education both in Kyrgyzstan and abroad. In the course of the trainings the participants learnt about various educational opportunities available for them, received tips on how to prepare for SAT and TOEFL examinations and apply to the U.S. universities.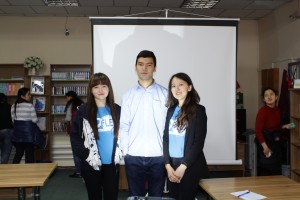 'Many students were inspired and actively participated in a QnA session,' notes Aida.
The project was actively promoted on Instagram and Facebook. After the trainings a few students contacted the organizers for further advice.