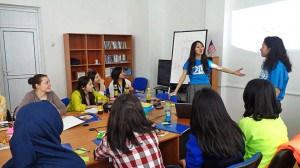 Aida Oktombekova '13 (Bishkek, Kyrgyzstan) Event Location:  Jalal-Abad, Kyrgyzstan  $140 FLEX Alumni Grant Funding $210 cost share from: American Corner, language school English Zone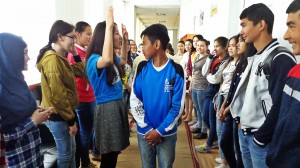 On April 18, Aida Oktombekova '13 and Tolgonai Turgazieva  '13 encouraged 41 high school students to pursue higher education both in Kyrgyzstan and abroad by organizing a training with the title Lead. It started with a presentation about educational opportunities available in Bishkek after which FLEX alumni talked about ways to successfully pass international examinations, such as SAT and TOEFL, in order to enter universities abroad.  Many students were inspired and attended a Q&A session.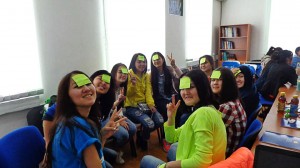 The final part of the training was dedicated to studying English in an informal way.  'We showed teenagers that learning a foreign language could also be fun and taught English through songs, idioms and famous speeches,' says Aida Oktombekova '13.
As a result of the training 11 students expressed interest in taking international tests while the rest of the group felt more confident in their ability to speak a foreign language as well as encouraged to enter university after high school.