The 42nd President of the United States of America Bill Clinton, former Secretary of State Hillary Clinton, and Chelsea Clinton hosted the seventh annual Clinton Global Initiative University (CGI U) meeting from March 21-23, 2014 at Arizona State University in Tempe, Arizona. The meeting brought together more than 1,100 innovative student leaders who made nearly 700 Commitments to Action (http://www.cgiu.org/commitments/) in CGI U's five focus areas education, environment and climate change, peace and human rights, poverty alleviation, and public health. Student attendees had the opportunity to attend plenary sessions, working sessions, and other special events covering topics across CGI U's five focus areas and allowing them to network with their peers, build skills, and identify potential partnerships. Youth organizations, topic experts, and celebrities joined students at the CGI U meeting to help them gain the skills and knowledge needed to take action on their commitments.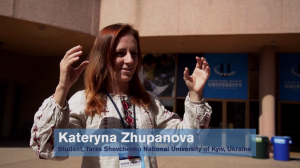 During the last day of the CGI U meeting, attendees took part in a Day of Action in the local community with PHX Renews. FLEX alumni Daria Batalova '12 and Kateryna Zhupanova '09 presented their project Help and Travel at the exchange exhibit, make connections with people who share the same ideas, and talk to Chelsea Clinton about the current situation in Ukraine. CGI U 2014 brought everlasting memories and inspiration that will help these two young ladies make changes in their Motherland.
Besides the attendance of the conference, the alumnae were able to explore Arizona and California, and spend some quality time with Darya's host grandparents in Tucson, AZ and host mom in Los Angeles, CA!
Kateryna and Daria received a generous travel grant from the Public Affairs Section of the U.S. Embassy in Ukraine, which covered their return travel to the Arizona and made their attendance of CGI U possible.
Kateryna Zhupanova '09 (Kyiv, Ukraine) was also featured in this video from 3:04 – 3:15